alphaDUR mini UCI hardness tester (made in Germany)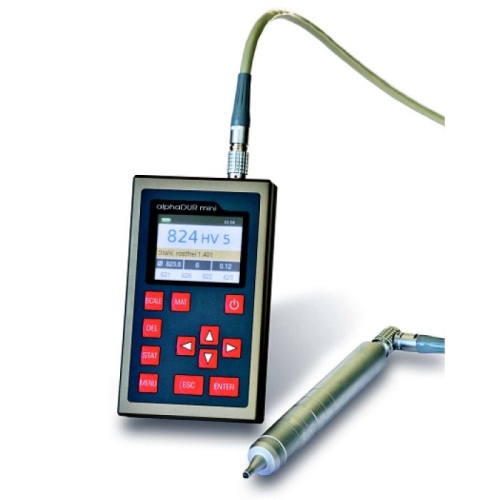 The alphaDUR mini is a UCI (Ultrasonic Contact Impedance) type hardness tester. It provides fast and accurate test results and is useful for measuring the hardness of test objects that are too small or thin for other types of portable hardness tester. The small indentation area is electronically assessed by measuring the ultrasonic frequency shift.
The hardness values can be converted and displayed in common scales such as HV, HB and HRC. The measured value is displayed directly after the test load has been applied. A test load between 1 (HV 1) and 10 kg HV 10) can be chosen depending on the application and the sample surface.
Fast and accurate hardness testing
Test method according to DIN 50159 and ASTM A1038
Robust metal casing
Large colour display
Built-in Li-ion battery
Extensive storage and statistical functions
Standard delivery includes :
Main device with built in battery , USB charger, test certificate, instruction manual, storage case
Optional accessories :
Probes - 10N, 20N, 30N, 49N, 98N
Probe support for flat and curved surfaces
Probe handle
Precision test stand
Portable mini printer
Special Probe SL for difficult to access areas
Test blocks (Ø 90x16mm) / optional MPA / DKD certificate
alphaSOFT II – software for documentation and graphical illustration