Equotip 540 & 550 Metal Hardness Testers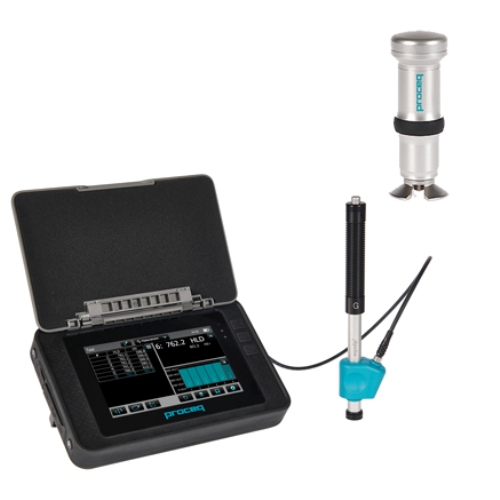 The Equotip 540 & 550 hardness testers are the most versatile all-in-one solution for portable hardness testing, offering extended capabilities and unmatched ease of operation. These metal hardness testers have a large and clear display which is integrated in a specially designed housing for on-site usage in harsh environments.

Equotip 550
Three testing methods – one solution
Equotip 550 is the most versatile all-in-one solution for portable hardness testing using dynamic Leeb, Portable Rockwell, and UCI. Features such as multi-probe connectivity, custom conversion curves, customizable reports and data export to PC, deliver unparalleled flexibility with all three testing methods.

Equotip 540
For dedicated single test methods
Equotip 540 enables regular, basic usage in hardness measurement without extensive reporting functionality. Offering essential features and a basic set of accessories, it supports portable hardness testing using either Leeb D or UCI.

Leeb – Fast and easy
Equotip 550 Leeb covers a wide range of applications of the Leeb principle, the fastest and easiest method to determine hardness, thanks to its seven different impact devices and 16 support rings.

Portable Rockwell – Ideal for thin or light samples
A static hardness measurement solution particularly suited for scratch-sensitive and polished parts or on thin parts, profiles and pipes. The required minimum thickness for a reliable hardness reading is ten times the indentation depth.

UCI – When accessibility is limited
Equotip 550 UCI is well suited for applications where accessibility is limited, such as welds, HAZ, or difficult surface structures. With an adjustable test load from HV1 to HV10, a wide range of applications can be covered with a single probe. The UCI test principle is suited for objects with any shape and heat-treated surfaces (weld inspection; heat affected zones).

The new generation Equotip Touchscreen Unit offers a user interface designed for increased efficiency. The enhanced software provides interactive wizards, automatic verification processes, personalization options and custom reporting.
The full colour display allows best possible measuring and analysis of the measured data.