Dakota ZX Series Ultrasonic Thickness Gauges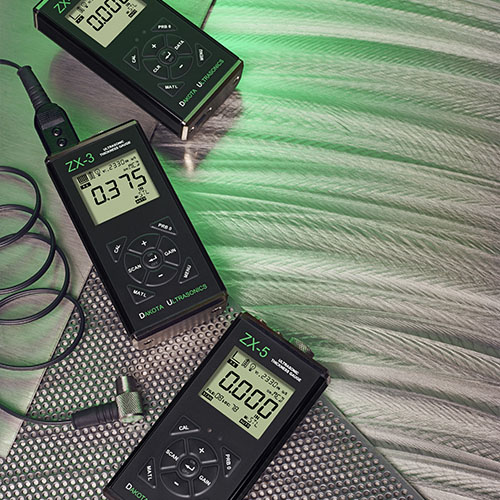 The ZX-1 can be pre-programmed for a specific material type using a simple PC program. An ideal ultrasonic thickness gauge for users that measure the same material type all the time.
The ZX-2 has 8 common preset material types and 2 user programmable types. This makes the ZX-2 more flexible for those users that need an ultrasonic thickness gauge to measure more than material type. A simple PC program allows the user to program the ZX-2 for two additional material types.
The ZX-3 offers adjustable velocity for calibrating to a variety of materials instantly and also 8 preset material types. Selectable auto or manual probe zero. Adjustable gain. Another feature is high speed scanning. The ZX-3 will display the minimum thickness in the area scanned.
The ZX-5 has all the features of the ZX-3 plus: Alarm mode - when measurements fall above or below a user pre-set value, visual and audible alarms are activated. Differential mode - the user sets a target thickness value and the ZX-5 will display the difference ( +/- ) from the target value.
The ZX-5DL includes an internal data logger for 10,000 readings. Software and USB transfer cable are included in the kit.