Dakota PZX-7 (Precision) Ultrasonic Thickness Gauge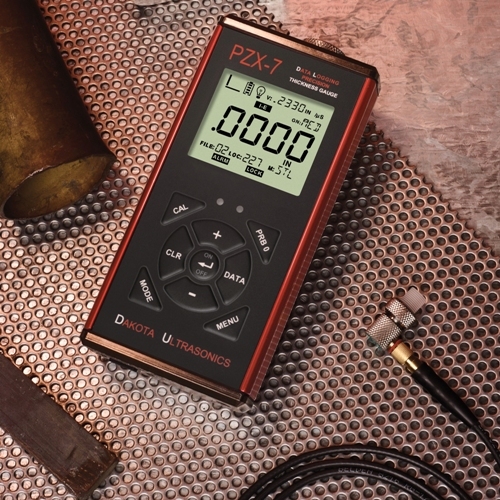 The PZX-7 can perform extremely precise high resolution measurements on thin walled materials (range 0.15 – 25.4mm). It is housed in a robust aluminium sealed case and has the following advanced features :
Large backlit LCD display with 0.001mm resolution
Scan mode (scan area for minimum thickness)
Alarm mode (audible & visual)
Differential mode (+/- from nominal thickness value)
Echo-Echo mode for through paint and thin material applications
Automatically switches to Interface-Echo mode when measuring thicker materials
Alarm mode (set hi and lo limits)
DL version has data storage capacity for 1,000 readings
Supplied as a complete kit including delay line probe, batteries, bottle of couplant, instruction manual, foam lined carrying case and NIST Calibration Certificate. CE certified. The DL version stores 1000 readings & includes software & cable.