Dakota MVX (A/B Scan) Ultrasonic Thickness Gauge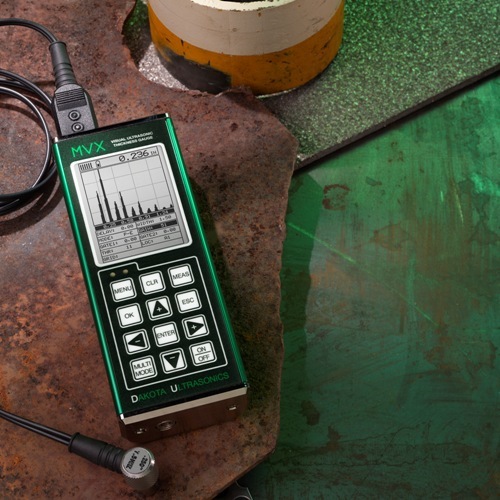 our price
£2,270.00
ex. VAT
The Dakota MVX has all of the features of the MX ultrasonic thickness gauges plus the following advanced features :
High resolution display with multiple viewing options (A-Scan Rectified +/- and RF waveform view, B-Scan cross section, and Large Digits)
Adjustable gain, manual or AGC
Pulse-Echo Mode: (Pit & Flaw Detection) / Echo-Echo Mode: (Thru Paint & Coatings)
Flaw Prove Up: Basic mode using angle beam transducers
Two independent gates with shared threshold.
Alarm mode (set hi and lo limits), fast scan mode (32 measurements per second)
Data storage : 12,000 page capacity
Supplied as a complete kit including probe, software, data cable, batteries, bottle of couplant, instruction manual, foam lined carrying case and NIST Calibration Certificate. CE certified.