Dakota CMX Ultrasonic Thickness Gauge (A/B-scan & coating thickness)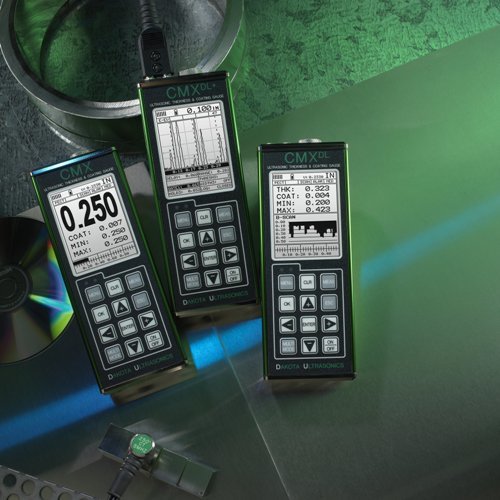 The CMX series ultrasonic thickness gauges are multi-purpose material and coating thickness gauges featuring auto probe zero, auto probe recognition, auto temperature compensation, and a stand alone coating only mode.
The CMX will simultaneously measure the material and coating thickness and also find pits & flaws at the same time!
Custom setups for all your common testing applications. The time based B-Scan view enables a cross sectional view of the material. The high speed scan mode operates at 50 readings per second!

The CMX DL ultrasonic thickness gauge includes all the features of the CMX plus a data logger. Storage for 16,000+ readings with B-Scan captures or turn the graphics mode off and store over 210,000 readings!
The CMX DL+ has all the features of the CMX DL plus a full featured A-Scan presentation with RF and Rectified viewing options. 3 fully adjustable gates, a 20dB boost/cut attenuator which offers added flexibility for transducer types and applications. Available with grayscale or AMOLED colour display.
Supplied as a complete kit including probe, batteries, bottle of couplant, instruction manual, foam lined carrying case and NIST Calibration Certificate. CE certified. DL models include software and data cable.