Rhopoint Novo-Gloss Glossmeter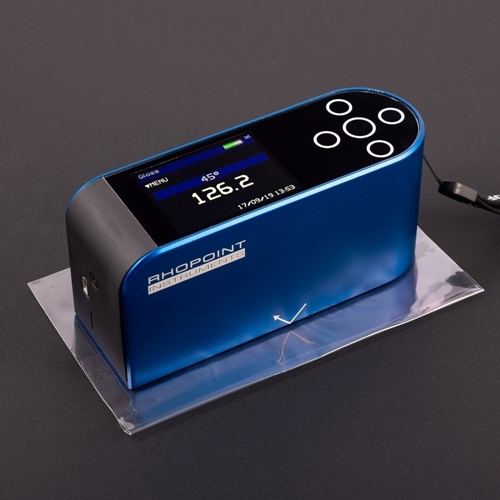 The Novo-Gloss range of Glossmeters are ideal for gloss measurements of all surfaces and are suitable for matt to mirror gloss surfaces.
Single 60°, Single 45°, Trio 20/60/85° and Trigloss 20/60/85° with haze versions for maximum accuracy and resolution in all gloss applications.
These small, lightweight and durable gloss meters can be used in production and laboratory environments. The high specifications include statistical analysis, graphical analysis and software-free PC down load facility.
Included accessories
Certified calibration tile with certificate
USB data cable
Wrist strap
Novo-Gloss Multi Gauge software
Instructional videos
USB data stick
Instruction manual
BT wireless data app
Example Excel spreadsheets
Features
Ultra-fast measurement time
Time and date stamped results
Automatic tile detection for faster calibration
Full on-board statistics
Graphical trend analysis of results for simple reporting.
Easy Batching – User definable batch size and names for more efficient measurement of multiple samples
Software-free data transfer of measurements and batches
Direct data input via Bluetooth – transmit each measured reading directly into
Microsoft Excel or other programs
Pass / Fail for easy identification of non-conformances
Auto-ranging, suitable for measuring matt to mirror finishes
Compliant to major international standards such as ASTM D523, ISO 2813, ASTM D2457