DeFelsko PosiTector GLS Glossmeter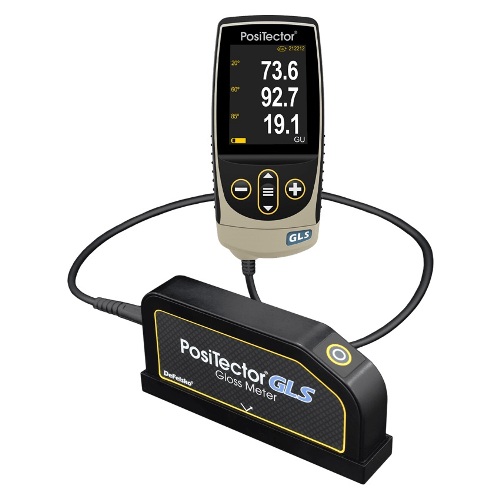 Portable gloss measurement for all surfaces finishes
Select from 3 probe models: GLS 60, GLS 20/60, and GLS 20/60/85

Large impact resistant colour touchscreen with keypad for quick menu navigation
Weatherproof, dustproof, and water-resistant gage body—IP65-rated enclosure
Automatic Diagnosis and Auto Calibration performed upon power-on using the protective base plate with integrated calibration standard (tile)
Fast measurement speeds of 60+ readings per minute
USB port for fast, simple connection to a PC and to supply continuous power
PosiTector body accepts all PosiTector probes easily converting to a coating thickness gage, dew point meter, soluble surface profile gage, soluble salt tester, hardness tester, or ultrasonic wall thickness gauge
Certificate of Calibration and Two year warranty

Conforms to ASTM C584/D523/D4039, ISO 2813/7668, JIS Z 8741, AS/NZS 1580.602.2

Standard Models (1)
Includes ALL features as shown above plus...
Storage of 1,000 readings per probe—stored readings can be viewed or downloaded
Advanced Models (3)
Includes ALL features as shown above plus...
Storage of 250,000 readings in up to 1,000 batches.
Differential Mode automatically calculates the difference between the current reading and a stored reference value.
2 Powerful Scan Modes for quantifying large surfaces :-
Normal – take continuous readings.
Statistics – take continuous readings and record average, standard deviation, min/max, and number of readings while scanning.
Touchscreen keyboard for quickly renaming batches, adding notes, and more.
Live graphing of measurement data.
WiFi technology wirelessly synchronizes with PosiSoft.net and downloads software updates.
Bluetooth 4.0 for data transfer to a mobile device running the PosiTector App or optional portable printer. BLE API available for integration into third-party software.
Integrate with third-party software, drones, ROVs, PLCs, and robotic devices using several industry-standard communication protocols.