Mecmesin Advanced Force Gauge (AFG)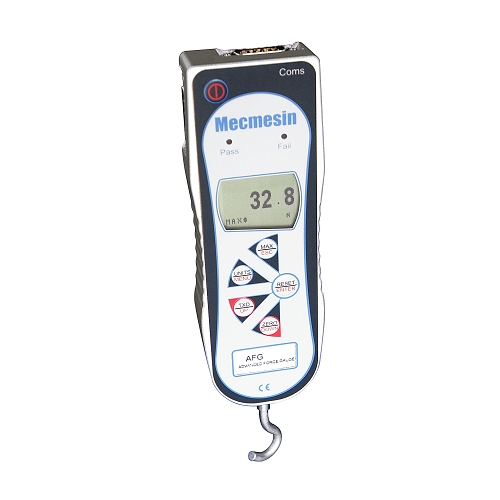 The Mecmesin Advanced Force Gauge (AFG) is the most versatile and fully-featured digital force gauge on the market. It can be used hand-held or fixed to a manual or motorised test stand to allow testing under controlled speed conditions. The AFG is fitted with a high-precision "internal" loadcell accurate to ±0.1% of full scale.
The AFG offers enhanced test options including:-
View 1st peak & ultimate max readings
Audible and visual pass/fail alarms
Store up to 500 readings in the memory
Reversible display
Excellent accuracy ±0.1% of full-scale
N, kN, mN, gf, kgf, lbf and ozf measurement units
RS232, digimatic and analogue
Overload warning, with trend bar
Data acquisition software for additional test evaluation options
10 models, 2.5N to 2500 N (0.55lbf to 550 lbf)
Standard delivery includes:-
Calibration certificate
Compression plate
Test hook
Extension rods
Rechargeable batteries (NiMH)
Mains adapter / battery charger
Rugged carry case
For added flexibility the AFG is able to recognise data from our range of external 'plug and play' force or torque transducers.
The AFG can be used with a wide range of Mecmesin grips and accessories.