PosiTector DPM Dew Point Meter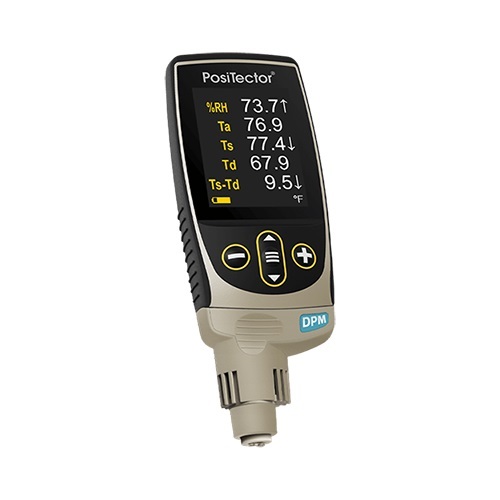 Dew Point Meters for Environmental Monitoring
Measures and records climatic conditions including: relative humidity, air temperature, surface temperature, dew point temperature, wind speed, and difference between surface and dew point temperatures.
All readings are constantly updated and displayed simultaneously
Alarms indicate when climate conditions are unsuitable for painting.
SmartTrend™ Indicators identify rising, falling, or stable readings
Auto Log mode records environmental parameters at user selected time interval.
Screen Capture—save 100 screen images for record keeping and review
Every stored measurement is date and time stamped
Impact resistant color touchscreen with keypad for quick menu navigation
Weatherproof, dustproof, and water-resistant—IP65-rated enclosure
PosiTector interchangeable platform—attach any PosiTector probe to gage body
USB, WiFi, and Bluetooth connectivity to PosiSoft PC, Mac, and Smartphone software
Certificate of Calibration and Two year warranty
Conforms to ISO 8502-4, BS 7079-B4, ASTM D3276, IMO PSPC, SSPC-PA7, US Navy NSI 009-32, and Navy NAVSEA 009-32

Standard Models (1)
Includes ALL features as shown above plus...
Storage of 2,500 datasets—stored readings can be viewed or downloaded
Auto Log mode runs unattended on batteries for up to 60 hours or continuously via USB
Advanced Models (3)
Includes ALL features as shown above plus...
Storage of 250,000 datasets in up to 1,000 batches
Enhanced Auto Log mode turns the gage off between readings for up to 8 months of battery life. Each reading can be uploaded to PosiSoft.net or an FTP server using WiFi. Automatically group readings into batches at daily, weekly, or monthly intervals
User defined limits for all parameters—visible and audible warnings. Receive email alerts when connected to WiFi.
Touchscreen keyboard for quickly renaming batches, adding notes, and more
Wet bulb temperature can be displayed and recorded
WiFi technology wirelessly synchronizes with PosiSoft.net and downloads software updates
Bluetooth 4.0 for data transfer to a mobile device running the PosiTector App or optional portable printer. BLE API available for integration into third-party software
Integrate with third-party software, drones, ROVs, PLCs, and robotic devices using several industry-standard communication protocols