DeFelsko PosiTector 200 coating thickness gauge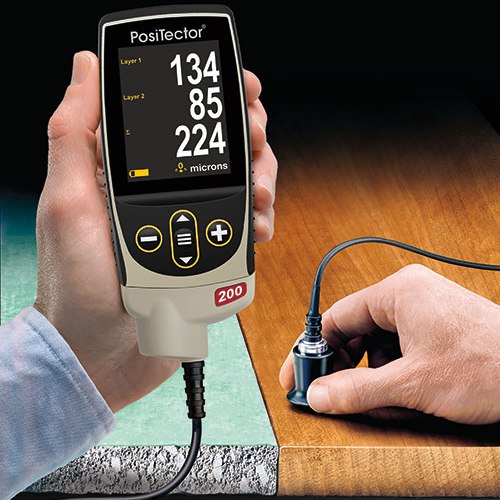 Coating Thickness Gauges for Non-Metal Substrates

Non-destructively measures a wide variety of applications using proven ultrasound technology. Measure coating thickness over wood, concrete, plastic, and more. Advanced models measure up to 3 layers with graphics.
Ready to measure – no calibration adjustment required for most applications
Impact resistant color touchscreen with keypad for quick menu navigation
Weatherproof, dustproof, and water-resistant—IP65-rated enclosure
PosiTector interchangeable platform—attach any PosiTector probe to gage body
Software solutions for viewing, analyzing & reporting
USB, WiFi, and Bluetooth connectivity to PosiSoft PC, Mac, and Smartphone
Every stored measurement is date and time stamped
Certificate of Calibration and Two year warranty
Conforms to ASTM D6132 and ISO 2808

Standard Models (1)
Includes ALL features as shown above plus...
• Measure the total thickness of a coating system
• Storage of 1,000 readings per probe—stored readings can be viewed or downloaded

Advanced Models (3)
Includes ALL features as shown above plus...
Measure the total thickness of a coating system or up to 3 individual layer thicknesses in a multi-layer system
Graphics mode with screen capture for detailed analysis of the coating system
Storage of 250,000 readings in up to 1,000 batches and sub-batches
Prompted Batch Mode—create pre-defined batches with on-screen text and image prompts for each reading
Live graphing of measurement data
SSPC-PA 9 modes help users comply with standards by prompting for min/max specifications, displaying the necessary readings, and automatically calculating statistics with a pass/fail result
Touchscreen keyboard for quickly renaming batches, adding notes, and more
Multiple stored calibration adjustments for measuring on a variety of substrate conditions
WiFi technology wirelessly synchronizes with PosiSoft.net and downloads software updates
Bluetooth 4.0 Technology for data transfer to a mobile device running the PosiTector App or optional portable printer. BLE API available for integration into third-party software
Integrate with third-party software, drones, ROVs, PLCs, and robotic devices using several industry-standard communication protocols