MINI-MAX Ultrasonic Bolt Tension Monitor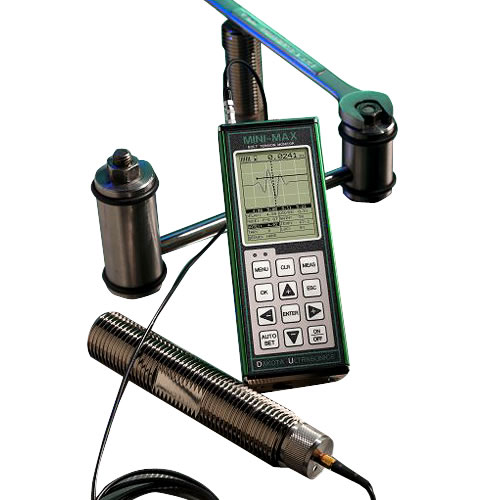 The MINI-MAX Ultrasonic Bolt Tension Monitor defines the state of the art in the measurement of the actual elongation produced by tightening a threaded fastener.
The MINI-MAX can very accurately measure the elongation of fasteners of virtually any material from 1 inch to 4 feet in length.
The measurement is achieved by determining the change in the transit time of an ultrasonic wave along the length of the fastener as the fastener is tightened. The on-board microcomputer automatically interprets this time measurement to display the time (nanoseconds), elongation, load, stress, or % strain from stretching a fastener.
Features
Can measure bolts from 1/2″ up to 50 ft. (15.24 m).
Auto calibration for system zero.
Built in load calibration toolkit.
Wide range of material types and calibrations.
Selectable 200 volt square wave pulser (100, 150, 200 volts).
Variable transducer damping (50 - 1500 ohms), for use with 1-10 MHz transducers.
Large 110 dB gain range.
Variable digitizer for improved resolution and stability.
Temperature compensated.
Hi/Lo alarm limit used for for tolerances.
Measurement quantities – Time (nanoseconds), Elongation, Load, Stress, & % Strain.
Display Options – RF, Rectified, Large Digits with Limits Bar.
Display Resolution – 1/8″ VGA 240 x 160 pixels.
The Auto Set feature automatically optimizes detection and adjusts display.